Derbyshire Fascias Description of work
We've put together a quick 20 point step guide to describe the Derbyshire Fascias installation process:
First contact us and we will arrange a quick 10 minute FREE quotation at a time to suit you (NO Salesmen).
Carry out a risk assessment.
Erect access equipment to desired work height.
Remove the first course of roof tiles and set aside for re-use.
Cut back and remove the old corroded eaves felt.
Remove the old timber Fascias and Soffits, exposing the rafters.
Remove and lower to ground the existing fascia, soffits, and guttering.
Adjust timber rafters as required and to install new rafter hangers to ensure that the new fascia will be straight and level. (We use a string line to ensure the fixing points are all parallel)
Supply and fit 10mm BBA approved Pvcu soffit boards fixed into place with 30mm Polytop stainless steel nails.
Supply and fit 18mm BBA approved Pvcu fascia boards fixed into place with 65mm Polytop stainless steel nails.
Supply and install BSi approved Pvcu guttering ensuring all water runs freely to the outlets. (We use a string line to ensure the gutter has the correct fall for the rainwater to run off)
Supply and install BSi approved Pvcu rain water downpipes, connect into existing underground drains.
Supply and install concealed 25mm over fascia vent strips – to reduce loft condensation. (Bringing your roof up to the new building standards).
Supply and install new eaves guard overlapping into the guttering.
Supply and install new bird comb to prevent birds and vermin entering the roof space. (Not required on every installation and depends on the style and type of tiles on your property.)
Refit all the tiles.
Inspect, replace and patch up all cement that has been dislodged.
Clean and seal.
Remove all waste material leaving the site clean and tidy.
Lower access equipment and carry out final inspection with the customer.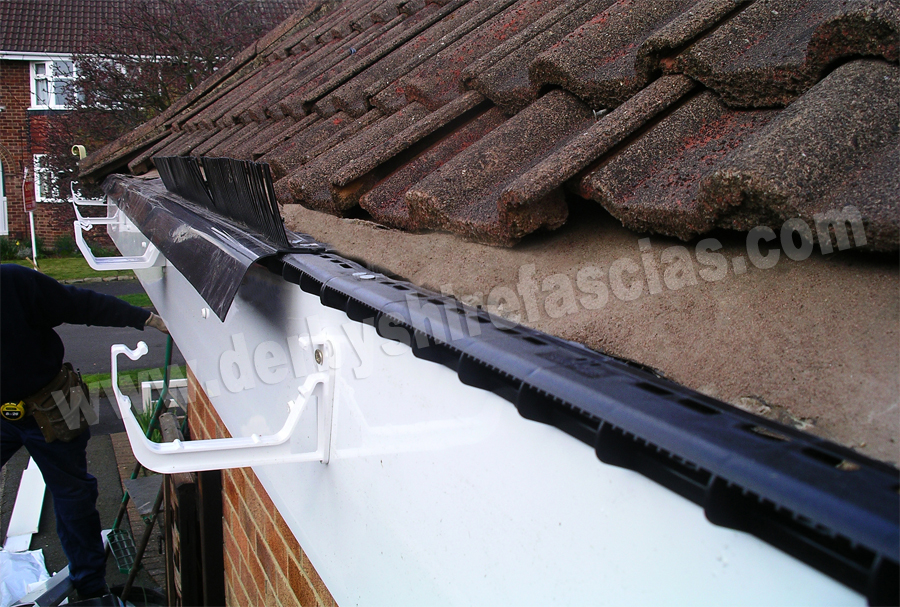 Here at Derbyshire Fascias we do not take short cuts. We completely strip the fascias, soffits and guttering area and this enables us to inspect and repair, if necessary, the damaged joist-ends. We then re-build with new over-vented 18mm thick PVCu fascia boards complete with eaves guard on all our installations.
At Derbyshire Fascias we follow the practice of TOTAL REPLACEMENT not "over cladding"
The consequences of over cladding your fascias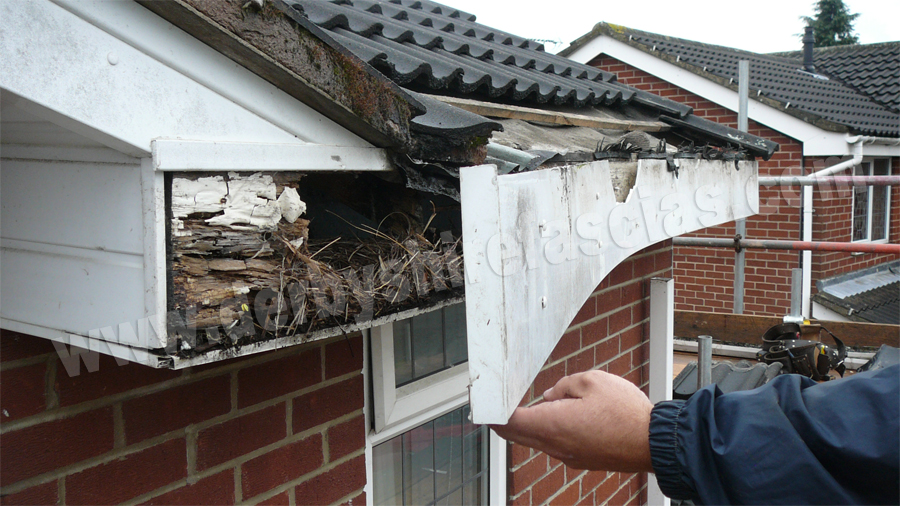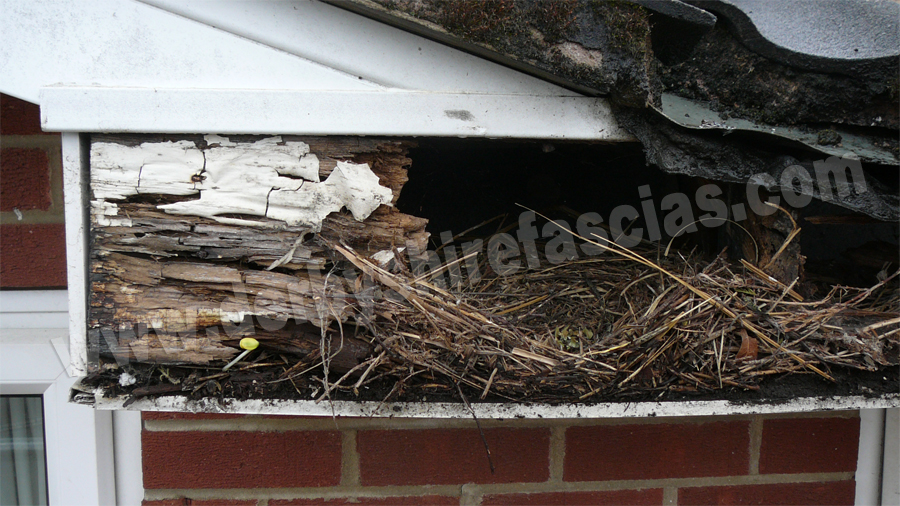 We believe that the best way to promote and develop our business is to provide the best product and service that we can.
We will only install products approved the British Board of Agrément (BBA) and the BSi seal of quality
Your Fascia Boards might look sound when viewed from the ground but as you can see from this photo, the decay has started from the top and is then only evident upon stripping down the roof area immediately above the Fascia Board. This is caused by the roof felt rotting away which allows water to penetrate the top of the boards.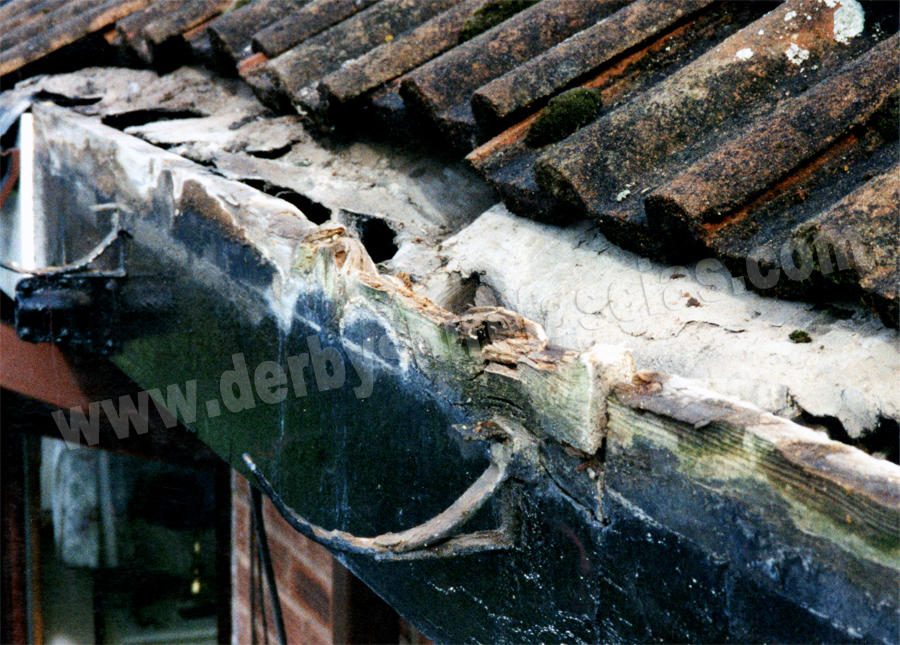 In fact around 90% of all the fascias we change have decayed this way.
As we can see here below some other companies prefer to take short cuts and simply clad over the existing timber.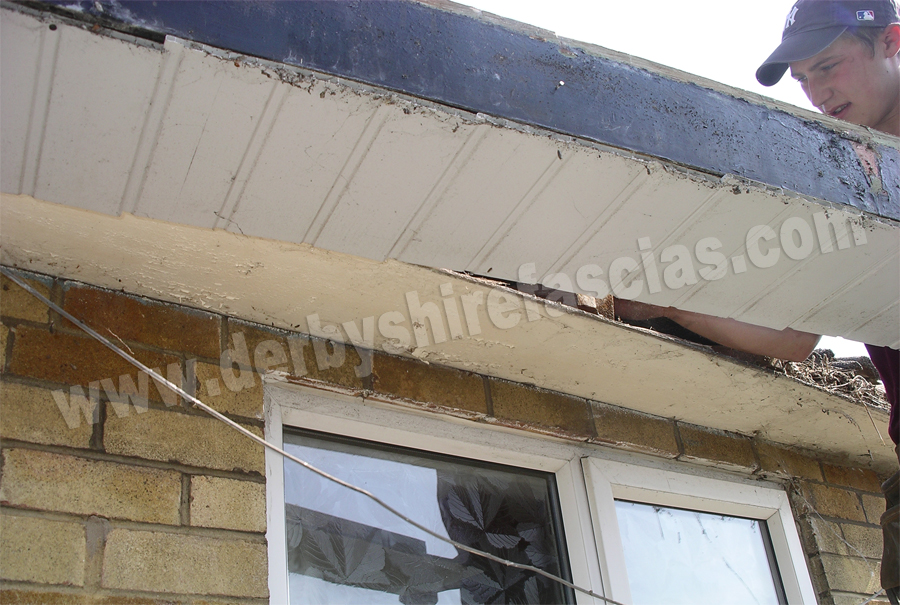 When you see soffits installed in this direction, then this is almost certainly the work of a cowboy.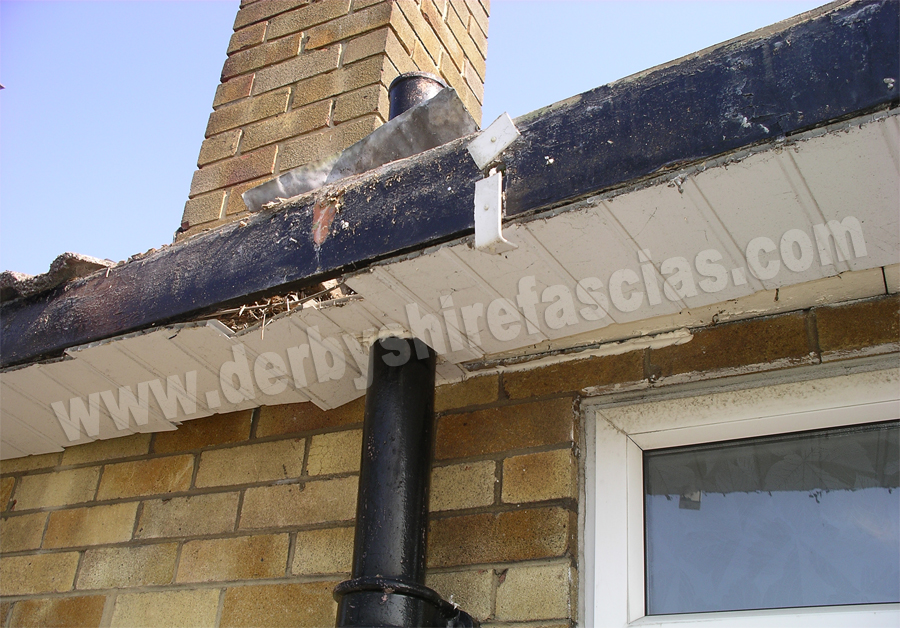 Quick easy and very profitable! to the firm but not to the customer.

A totally unacceptable method.

Cladding over existing timber only boxes the problem in and makes matters worse.