STOP PRESS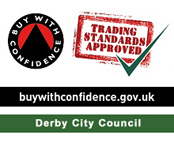 Derbyshire Fascias are one of the first Fascia, Soffit, Guttering & Firestone Rubber Roof installer in Derby to be officially approved by Derby City Council Trading Standards Department via its 'Buy with Confidence' scheme.
The Buy with Confidence scheme forms part of a nationally recognised Trading Standards initiative, which aims to establish high standards of trading and provide local consumers with a reliable source of trustworthy local businesses vetted and approved by Trading Standards.
Membership of the Buy with Confidence scheme is not granted lightly, each member business will have undergone a strict vetting procedure before being granted membership. This includes research into their trading history, financial background, a criminal records check and a thorough audit of their business systems made by a Trading Standards Officer. Each business also provides access to their customer records and a selection are chosen at random by the auditing officer to write to and get their opinion on the service they received.
Only if all the scheme requirements are met will a business be granted membership and their conduct will continue to be monitored thereafter.
Membership is not given lightly and not everyone gets in.
Consumers who buy from a Buy with Confidence member have the peace of mind that they are dealing with a reliable and trustworthy local business that has been approved by Trading Standards and operates in a legal, honest and fair way.
This marks another major landmark for the company's evolution.
Did you also know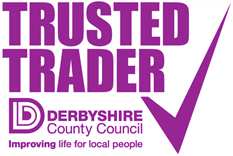 Derbyshire Fascias have been checked, vetted and approved by Derbyshire County Council Trading Standards Department and our name has been added to their exclusive list of Trusted Traders.
The Trusted Traders scheme is run in conjunction with the D.C.C. Trading Standards Department with the aim of combating rogue traders whilst, at the same time, promoting businesses and traders who do a good job at a fair price.
The scheme requires businesses to offer high standards of customer service and to operate legally, fairly and honestly. Derbyshire Fascias are proud to meet these criteria and you can therefore be assured of a first-class job and our personal attention at all times.
This is yet another milestone for the company.
What are fascias? What are soffits? What are bargeboards?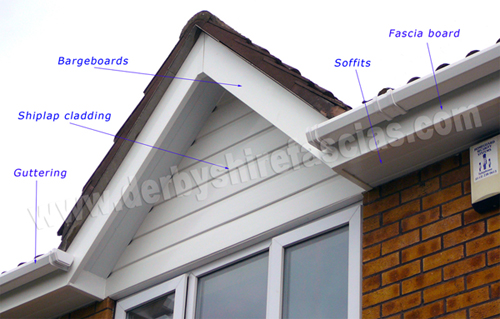 The fascia board is the one mounted at the point where the roof meets the outer walls of the house and is sometimes referred to Roofline.
However most people refer to it by the name of the main board that carries the gutter – the fascia or fascias.
Unfortunately, not many people are familiar with these terms, so we thought you might appreciate a few words of explanation..
This consists of four main areas; FASCIAS, SOFFITS, BARGEBOARDS and GUTTERING.
It is likely that despite appearances, deterioration of the existing timbers has already occurred with the risk of further damage to roof timbers.
Don't cover it, cure it with replacement PVCu Fascia Soffits and Guttering Systems.
No Rot, No Painting, No Problem