What are fascias & soffits?
Unfortunately, not many people are familiar with these terms, so we thought you might appreciate a few words of explanation..
The fascia board is the one mounted at the point where the roof meets the outer walls of the house and is sometimes referred to Roofline.
However most people refer to it by the name of the main board that carries the gutter – the fascia or fascias.
This consists of the Fascia, Soffits and the Bargeboards, and because they are in such an exposed and vulnerable position they need to withstand the force of the great British weather.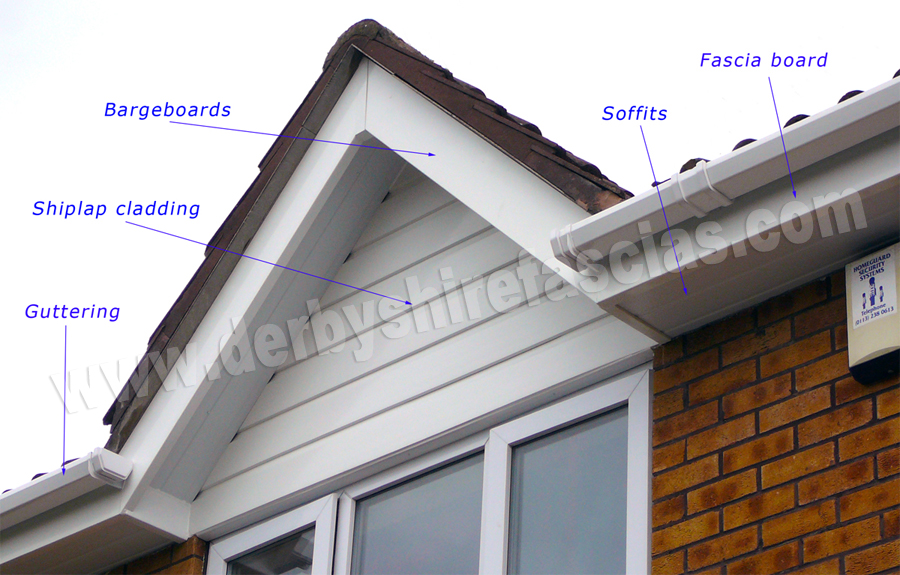 It is likely that despite appearances, deterioration of the existing timbers has already occurred with the risk of further damage to roof timbers.
By replacing your fascias with PVCu you will be able to keep one step ahead of rot and forget all about painting.
The PVCu used is precision-designed to be a timber replacement product without any of the problems associated with timber.
Fascia, Soffits and Guttering from Derbyshire Fascias carry the BBA & BSi seals of approval which gives total confidence in long-lasting products that will not rot, peel, flake or discolour. And, best of all, they never need painting!
With just the occasional wipe down with soap and water, your Fascias, Soffits & Guttering will look good for many years to come.